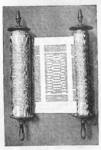 La Biblia - Eclesiastes
El Libro del Eclesiastés, a veces conocido como el "Libro del Predicador", es un libro del Antiguo Testamento de la Biblia, y también del Tanaj, perteneciente al grupo de los denominados Libros Sapienciales, o de enseñanzas. En el Tanaj judío se ubica entre los Ketuvim (o los "escritos"). En el ordenamiento de la Biblia, Eclesiastés sigue a los Proverbios y precede al Cantar de los Cantares, mientras que en el Tanaj se encuentra entre estos dos mismos libros, pero en orden inverso: le antecede el Cantar de los Cantares, y le sucede el de Proverbios.
English
The Book of Ecclesiastes was written by Solomon, king of Israel, son of David. It is a book of Wisdom that explores the vapor of life and vanity of man. Solomon is reputed to be the wisest man who ever lived.
German
Das Buch Kohelet (Koh; hebräisch קהלת "Versammler, Gemeindeleiter"), Prediger (Salomos) oder Ekklesiastes (Ἐκκλησιαστής in der Septuaginta und Liber Ecclesiastes in der Vulgata) ist eine Schrift der Bibel. Im Tanach wird der Text unter den Ketuvim "Schriften" geführt, im Alten Testament unter den Büchern der Weisheit. Es handelt sich um eine Sammlung von Weisheitssprüchen, praktischen Lebensratschlägen und Warnungen vor falscher Lebensweise.